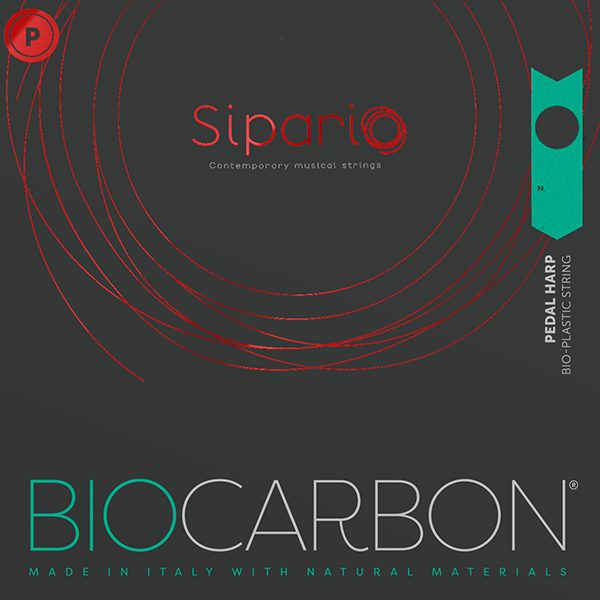 You may or may not have heard this yet, but Lyon & Healy and Salvi have begun marketing two new types of strings, called BioCarbon® and Bionylon®. Both are manufactured under the name Sipario. BioCarbon is billed as a synthetic alternative to traditional gut, and Bionylon as an environmentally friendly alternative to nylon. Salvi has begun stringing many of their lever harp models entirely in these new materials, as has Lyon & Healy with their Drake model lever harp.
Until recently, we at Moss Harp Service hadn't learned much about these new strings, but in April 2023 we had the chance to attend a conference for technicians at Lyon & Healy Harps in Chicago, and we had an opportunity to see and hear them, as well as discuss them among our circle of harpists and technicians. Of the two types of strings, BioCarbon was the one our discussions focused on, so that is what I will focus on in this article.
Background
The need for a more reliable alternative to gut strings is clear. As anyone who has played the harp since before 2010 knows, gut strings have begun to break more quickly and more often than they used to. The situation with increased breakage got worse and worse in the mid-teens. It is better today due to efforts at quality control by the gut string producers. While no scientific studies that I know of have been undertaken, based on my conversations with others in our industry, the quality of the raw materials (cow and sheep intestines) has degraded. This may be due to climate change, differences in animal feed, changing regulations concerning animal import and slaughter, or likely a combination of all three.
Even at their best, as a natural material, gut strings vary in strength, and are susceptible to changes in temperature and humidity which can cause them to go out of tune easily, as well as break more often than nylon.
Despite these challenges, gut has remained the best sounding string for pedal harps over much of their midrange. While nylon is a good alternative in the upper octaves, in the third, fourth, and fifth octaves, nylon has an awful, tubby sound that lacks projection and sustain. Newer carbon fiber strings have offered an alternative in recent years, but have not caught on widely with harpists.
Company Perspective
Marco Salvi, president of Salvi/Lyon & Healy, gave a talk about the new Biocarbon strings. He described the issues that have plagued gut strings in recent years. He said, "The gut of today is not the same as the gut of 50 years ago. What will it be like 50 years from now? We need an alternative."
He stressed that the company does not claim that BioCarbon sounds just like gut, and that the quest to create a synthetic gut alternative is ongoing. But, he said, the development of BioCarbon strings delivers a product that is good enough to be of use to the harp community. He suggested that while professional pedal harpists may continue to prefer gut strings for their unique sound, many more casual players may prefer BioCarbon, as once it is fully stretched and holding tune, it tends to stay in tune better, since it is less susceptible to environmental changes.
To quote the sales copy at harp.com, "Sipario BioCarbon® synthetic strings are made using a blend of a bio-plastic derived from sugar-cane; they deliver a powerful and bright tone that provides superior acoustic projection and sustain." But how do they really sound?
The Sound Test
During our conference, two concert grand harps of the same model were made available, one with traditional gut strings, and one with BioCarbon. Several harpists played both harps in turn so the rest of us could judge the sound. While the perception of sound is a completely subjective thing, here was my impression. The BioCarbon is indeed the closest approximation to gut I have heard. It is much fuller and better sustaining than nylon, and warmer than any carbon fiber string I've heard. Compared to gut, the tone was a bit brighter and thinner. Hearing the gut harp after the BioCarbon harp, I found the gut noticeably warmer, with a smoother, more "buttery" sound on the initial attack.
The harpists who tried it expressed that the BioCarbon has a slightly more slippery texture than gut, but that it was similar enough that they thought they could quickly get used to it. They said the tension of the strings felt very similar to gut. One commented that the sound of BioCarbon decays more quickly than gut. The general feeling among those hearing the two harps played side by side was that we were impressed, and pleasantly surprised by the quality of sound in BioCarbon. Players generally expressed that the overall feel of playing these strings was noticeably different at first, but they thought the difference was minor enough that they could quickly adapt to it.
More from the Company
Salvi engineers gave some more pertinent information about the BioCarbon strings. They said that the moisture absorption of BioCarbon is 3%, compared to 30% for gut strings, making them far more stable in pitch once completely stretched. They stressed that the tension of BioCarbon is slightly higher, about 3-4% on a fully strung pedal harp, but this difference is negligible and BioCarbon is safe to use on all harps, even older ones. They also pointed out that the diameter of a BioCarbon string is slightly larger than a corresponding gut string, so that switching a harp from one type to the other will require re-regulation of the instrument.
With respect to putting BioCarbon strings on a harp, the engineers warned that they should not be brought up to pitch right away. They are prone to breakage if tuned too fast. They suggested bringing them to pitch slowly over two to three days. Once they are stable at pitch, there will likely be too many windings around the tuning pin, especially in the lower register, and these will need to be removed to avoid undue tension on the string and the tuning pin. For a demonstration from Salvi on how to replace these strings, check our this YouTube video: https://www.youtube.com/watch?v=v7dPsnSGVr0
While the new strings take longer to bring up to pitch, the engineers described a technique for quickly stretching a new string in a situation such as a performance where one string needs to be brought up to and kept at pitch very quickly. A video demonstration of this technique is available at https://www.youtube.com/watch?v=sdk8WbRrODA. 
Some technicians in the audience stated that the strings take much longer to hold pitch well than the company claims, and that new BioCarbon strings still don't hold pitch after 3-4 weeks of constant tuning. Liza and I figured we'd have to wait and experience the difference ourselves to form an opinion. It turned out we wouldn't have to wait long. Just after the conference, we received a Salvi Hermes in our shop, and due to the need to take it apart for a repair, we ended up replacing most of its BioCarbon strings. I'll tell you all about that in a future post.