Calendar
Schedules, Appointments & Regular Stops
DesMoines, IA
Indianapolis, IN
Boise, ID
Ann Arbor, MI
Minneapolis, MN
Kansas City, MO (and KS)
Fargo, ND
Omaha and Lincoln, NE
Portland and Eugene, OR
Sioux Falls, SD
Austin, TX
Salt Lake City, UT
Seattle, WA
Madison, WI
Milwaukee, WI
For appointments in Salt Lake City, please contact Lyon & Healy West directly.
To schedule an appointment online, click the "Schedule Online" link after the Location (if available).
Questions? Please contact Moss Harp Service.
76For a complete current price list, click here.
Pedal Harp Regulation: $425.00
Lever Harp Regulation: $225.00
Bass Wire Installation: $65.00 (plus wires)
Complete Restringing, Pedal Harp: $275.00
Complete Restringing, Lever Harp: $225.00
February 24-28: Salt Lake City, UT

March 2-5: Seattle, WA
March 21-23: Kansas City, KS
April 24-26: Indianapolis, IN
May 15-20: Salt Lake City, UT
June 8-11: Milwaukee, WI
June 22-25: Eugene, OR
June 22-24: DesMoines, IA
July 11-17: Boston, MA
August 8-11: Minneapolis, MN
August 22-25: Ann Arbor, MI
August 26-28: Interlochen, MI
September 18-22: Salt Lake City, UT
October 3-5: Omaha, NE
November 7-13: Austin, TX
Want to receive the Harp Herald, a monthly newsletter with informative articles on harp care, changing strings, moving, and more? Click the big red button to join the mailing list.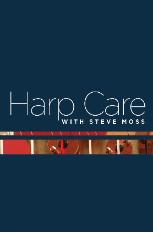 Introducing the first and only DVD on harp care.
Learn more.

If you have already purchased the DVD and are looking for the free tuning chart, you can download it here.